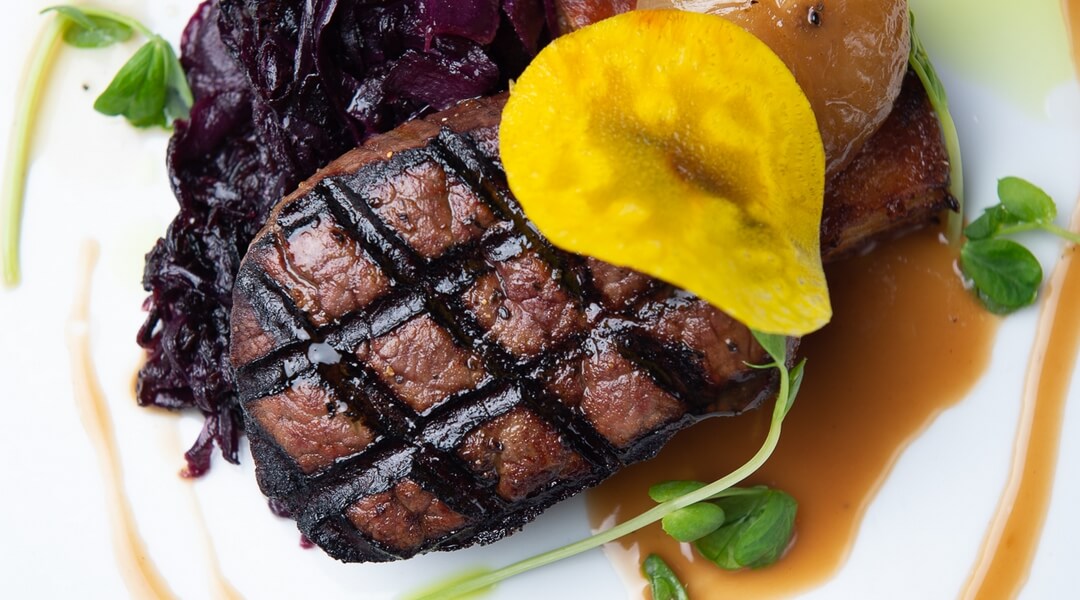 In Italy, the cattle (commonly known as Chianina) tend to be of a different breed from other cattle that you would find in North America. For this reason, Italian steak have a different taste in terms of the flavours, textures, and juiciness.
While it is up for debate whether Italian steak tastes better than other regions, it remains a very popular type of cuisine among many restaurants. Here are the top ten Italian steak and meat dishes that you should try out:
1. Italian Ribeye Steak
This popular Italian steak is rather spicy. The dish is made with ingredients such as rosemary, garlic, fresh oregano, basil, parsley, balsamic vinegar and white pepper. While grilling, always remember to preheat the grill, cook the steaks for about 7 minutes, turn over and coat with your preferred mixture.
2. Barbecued Beef Steak with Bruscansi Sprouts
This barbecued beef steak has minimal ingredients and takes only a short time to prepare. All you need is the beef steak, olive oil, salt, pepper and bruscansi sprouts, which are popular risotto ingredients in some parts of Italy. The sprouts could be replaced by wild asparagus as they hail from the same family.
3. Raw Beef Cooked with Mozzarella and Tomatoes
If you are looking for a recipe that allow ingredients such as mozzarella and tomatoes to stand out, you will enjoy this pared reverse version of steak tartare. One thing to remember is that your beef should be of high quality to make this Italian steak dish come alive. For the best flavours, it is recommended that you use beef from a heifer that is not older than twenty months.
4. Mustard Marinated Beef
This Italian steak dish is easy to prepare. However, do not let its simplicity fool you. The texture and flavour of the resultant dish is way beyond the sum total of its various parts.
5. Meat Balls with Tomato Sauce
This is by far one of the easiest Italian meat dishes to prepare, perfect for those looking for a quick fix. You can add some mozzarella topping once the meal is ready and serve it with spaghetti. It takes just about 30 minutes to prepare and is also said to have nutritional value. Each serving provides a bit of protein, carbohydrates and fibre.
6. Stracci di Antrodoco
As you get into the colder months of the year, this dish comes in handy. It is a rich veal mince ragu, which is stuffed into thin frittatas, rolled and baked in the oven in a creamy tomato sauce. It is best served with salad leaves and fresh basil.
7. Beef Carpaccio with Pink Pepper, Rocket and Sundried Tomatoes
Dating back to the 1950s, carpaccio was traditionally a dish of thinly sliced meat or fish served with salad and sauce. This refreshing beef carpaccio is ideal for summer. The secret to making the perfect beef carpaccio lies in how you treat the meat. If you are unable to cut the meat into proper thin slices, get a butcher to do it for you instead. The accompaniments for this dish come together beautifully, since the sweetness of the sundried tomatoes balances out the bitterness of the rocket.
8. Baked Eggplant Alla Romana
This is a sweet, silky and absolutely delicious Italian dish! Other than the common ingredients in most Italian dishes, it also contains parmesan cheese, oregano, and the all-time favourite, spaghetti sauce. The key to preparing this dish is to allow for a 10-minute rest after baking, so the eggplant can absorb any extra liquid and become increasingly tender.
9. Supplì al Telefono
This Italian appetizer has an exciting story behind it. If you think the recipe title sounds like a telephone, you are right. The name "al telefono" is derived from the appearance of the rice croquettes. When pulled apart, they create stretches of stringed mozzarella that look like the old-school telephone. First created as a basic snack that used risotto leftovers as ingredients, they are now served before dinner as palatable appetizers.
10. Coda Alla Vaccinanara
Coda alla vaccinanara, also known as the Roman oxtail stew, is prepared by parboiling and simmering with generous amounts of celery, aromatic herbs, and carrots. You can also add red wine and tomatoes to the dish. Re-cook with garlic, pancetta, onions, prosciutto, among other ingredients. On the final cooking phase, add cloves, celery stalks and bay leaves. Then, cook until you can effortlessly separate meat from the bone. For seasoning, use nutmeg, black pepper, cinnamon before garnishing with pine nuts.