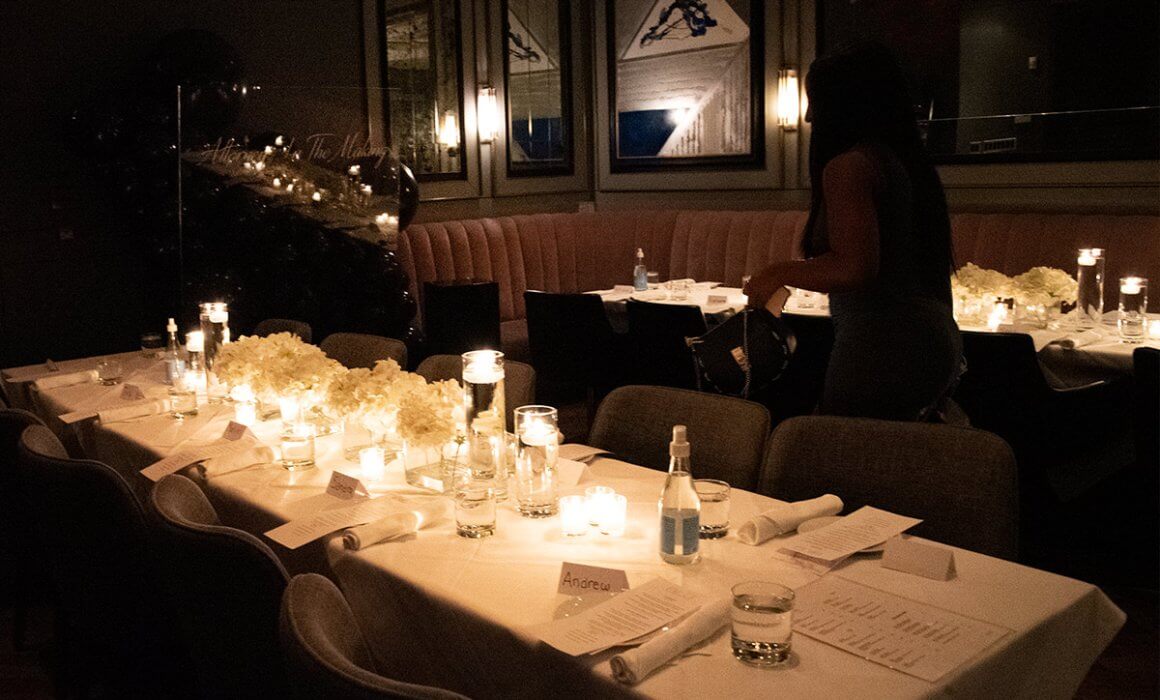 Group dinners and celebratory events are best held in a private dining room. Your party can enjoy the company, food, and restaurant ambiance without worrying they are getting too loud or disturbing other tables in some way. So if you're planning a dinner party for your family or colleagues, here are some of the best private dining rooms in Toronto you must check out.
Blu Ristorante
Looking for a private dining room in Yorkville, Toronto? Book Blu Ristorante. The restaurant features contemporary interiors that can serve as the perfect backdrop for your intimate group dining event. It offers a small private room that can accommodate ten to 26 guests and a medium semi-private dining room for 16 to 28 guests. Expecting 30 to 60 guests? You can reserve the entire mezzanine level for your large party. Best of all, the food is great! The group menus can even be customized to suit dietary needs or any theme.
Gusto 101
Gusto 101 is popular for its private wine cellar that accommodates up to 20 people. With long wooden tables, warm decor, and a spacious area, Gusto 101's industrial wine cellar is the perfect place to have a good conversation while enjoying family-style meals. The restaurant offers a wide selection of Italian dishes your group can enjoy sharing. If you have a larger group, you can opt for the rooftop or do a restaurant buyout to accommodate between 50 to 200 guests.
Barberian's Steak House
Want another option for a wine cellar private dining? Check out Barberian's Steak House. It features a private dining room housed in their beautiful wine cellar. The area is lined with over 1800 bottles and features elegant chandeliers to make the dining experience more luxurious. The area is also divided into two: the upper area can seat 14, while the lower can hold up to 30 people. What about the food? You can enjoy classic steakhouse offerings!
Rodney's Oyster House
Rodney's Oyster House has been serving fresh seafood since 1987. So if your family or colleagues is fond of eating oysters and other seafood dishes, hold your dinner party here! This charming seafood restaurant has several areas for big groups, where guests can enjoy buffets, a full-table service, or family-style meals. You can even book a personal oyster shucker to shuck and dress oysters for the entire party during the private dining event.
Richmond Station
Planning a dinner party for an intimate group of eight or ten? Check out The Pantry at Richmond Station. The Pantry is a semi-private dining room that comfortably seats twelve guests. It's the perfect spot to enjoy an intimate gathering in a buzzy atmosphere. Plus, you can choose from several fixed-price menus, each featuring the famous Stn Burger!
George Restaurant
If you fancy a tasting menu for your family dinner or a group party, head to George Restaurant. It offers inventive tasting menus that put a spotlight on the best local ingredients. Plus, it has three separate rooms for intimate dining events. Do you have a large party? You can open up the three private rooms into one majestic room for parties of up to 120 pax.
Terroni Adelaide
Want to enjoy Italian classics with your group of friends? Planning an intimate dinner to celebrate a family milestone? Book a semi-private dining room at Terroni Adelaide. It also features a patio for al fresco dining, which is best enjoyed in the warmer months. Best of all, the restaurant offers a wide selection of Italian classics, from pasta & pizza to affogato.
Bosk
Bosk is a chic private dining spot located in the exquisite Shangri-La Hotel. It features a modern room accentuated with wood panelling and creative lighting. It's perfect for corporate dining events or any upscale group dinners you need to plan soon. The food is equally exquisite, too! Bosk serves Asian spins on modern Canadian cuisines. How many people can fit in Bosk? It accommodates 36 people for a seated party or 45 for a cocktail event.