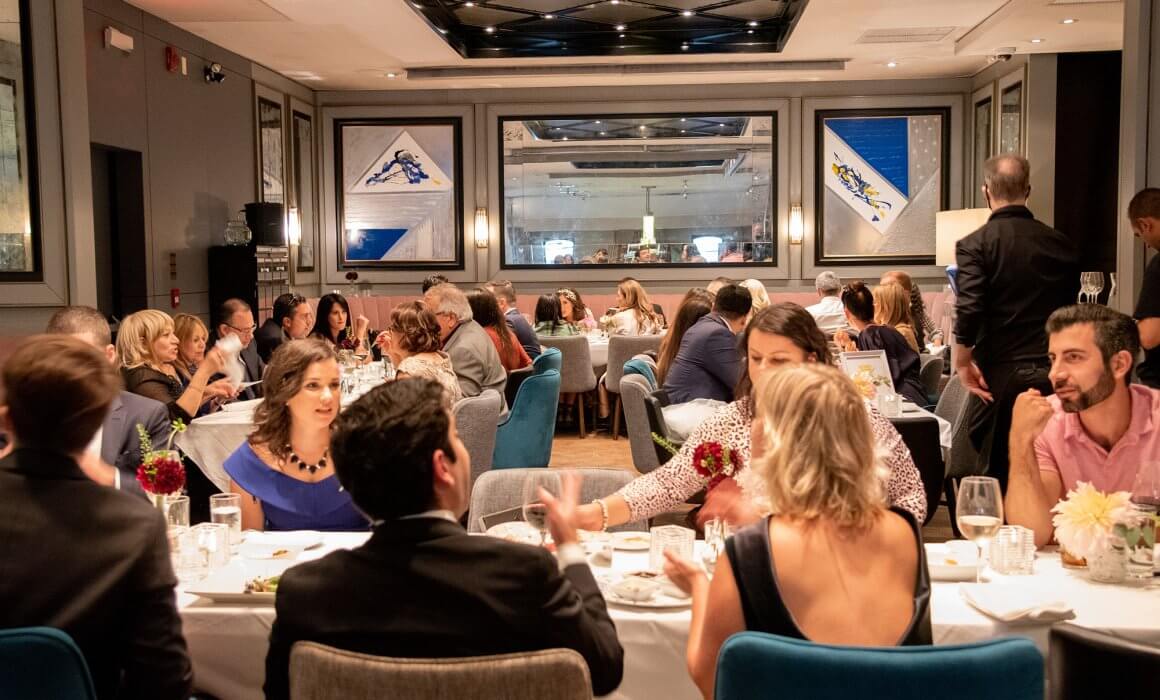 Small intimate weddings are becoming increasingly popular, especially these days when many couples look for unique and personalized ways to celebrate their love. If you're planning a small wedding and searching for a more intimate setting, consider hosting it in a private dining room or area. Here are some incredible private dining options for your big day:
Private dining rooms
Many restaurants have private dining rooms perfect for small and intimate weddings. These rooms offer privacy, personalized service, and a unique ambiance. Private dining rooms vary in size, accommodating anywhere from 10 to 100 guests, depending on the restaurant. The design and decor of these rooms can also vary, from sleek & modern to more traditional.
One of the benefits of choosing a private dining room for your small wedding is the level of customization available. You can work closely with the restaurant's event team to create a personalized menu and decor to suit your taste and style. Some restaurants also offer custom seating plans and AV equipment to ensure every detail of your special day is perfect.
Restaurants' outdoor spaces
Looking for a more relaxed & casual atmosphere for your small wedding? Some restaurants have outdoor spaces—such as patios, rooftop areas, or gardens—that can be transformed into a beautiful wedding ceremony or reception venue. Outdoor spaces offer a beautiful backdrop for your big day and can accommodate more guests than indoor private dining rooms.
If you want a more unconventional option, consider restaurants that offer private dining on a boat or yacht. This unique experience can provide breathtaking views of the water and skyline, making it an unforgettable location for your wedding.
Also, restaurants' outdoor spaces—no matter where they are—provide more flexibility in decor and design. You and the event team can work closely to decorate the outdoor area with flowers, lighting, and other elements to create a romantic and intimate atmosphere.
Buyouts
For couples who want complete privacy and exclusivity, some restaurants offer the option of buying out the entire restaurant for the evening. This option can accommodate larger guest lists and allows for more flexibility in terms of decor and menu options. Buying out a restaurant is a great option for couples who want to create a truly unique experience.
At Blu Ristorante, we offer a full buyout of our restaurant for small weddings. This private dining option allows you to enjoy your big day with up to 110 guests in a perfect setting.
Semi-private spaces
Some restaurants have semi-private spaces that offer a balance of privacy and openness. These spaces may have partial walls or dividers that create a sense of intimacy while still allowing for some interaction with other diners. Semi-private spaces are ideal for smaller weddings that want to create a more intimate and exclusive atmosphere while still enjoying the energy and ambiance of a bustling restaurant.
Chef's table
Are you and your soon-to-be spouse passionate about food? A chef's table experience can be a great option for your small wedding. This option offers a unique and immersive dining experience where guests can watch the chefs prepare and plate each course. Chef's tables are typically located in the restaurant's kitchen or a dining area adjacent to the kitchen.
The benefits of a chef's table experience for your small wedding include a unique and immersive dining experience. These also include personalized attention from the restaurant's chefs and the ability to create a customized menu that highlights your favorite foods and flavors.
Summing it up
When it comes to private dining options for small weddings, the possibilities are truly endless. From intimate private rooms to beautiful outdoor spaces and unique venues, restaurants offer multiple options to create a magical and memorable wedding day. That's not to mention that private dining also often provides the added convenience of having everything in one place —the ceremony, reception, and catering all in the same location.
It's also worth mentioning that private dining for a small wedding can be more cost-effective than renting out a larger wedding venue. Restaurants often offer affordable packages for private dining events, which include catering and beverage options. This can help couples save money on their overall wedding budget while still providing an elegant and personalized experience for themselves and their guests.
Ready to book a private dining room or restaurant buyout for your wedding? Contact Blu Ristorante. Our restaurant staff is ready to help make your big day special & memorable.