---
---
---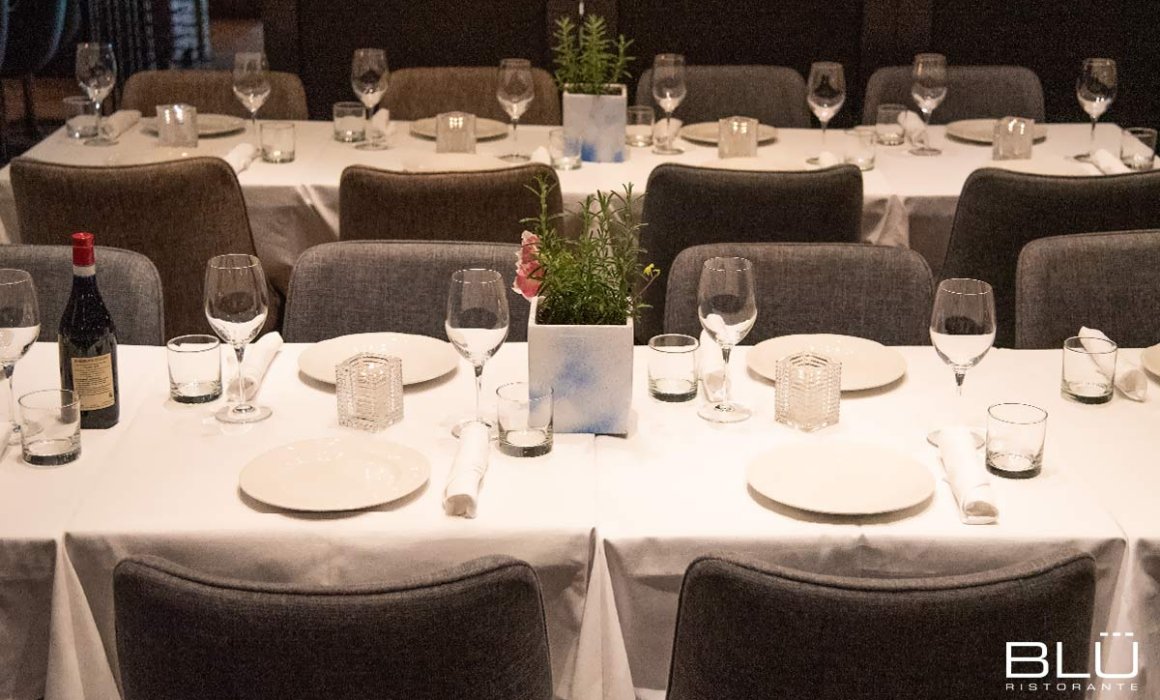 When you're planning to celebrate a special occasion with your friends and family, the first step is to find the right venue. While traditional venues like restaurants and banquet halls have a lively atmosphere, they may not always offer the level of intimacy you'd want. This is where private dining rooms come into the picture. They offer a perfect setting for your celebrations, where guests can enjoy personalized service, privacy, and an unforgettable dining experience.
What makes private dining rooms a great choice?
Keep your celebration private
Unlike the usual restaurant space, private dining rooms are designed to offer guests privacy to enjoy their celebrations without any interruptions or distractions. Whether you're celebrating a milestone birthday, an anniversary, or a romantic dinner, a private space ensures that the focus remains solely on the occasion and the people involved. This intimacy allows your guests to connect with each other, spend quality time, and create lasting memories.
Personalized service
From dedicated staff to custom menus, private dining spaces offer a high level of attention to detail and customization. You can work closely with the chef or event planner to create a personalized menu that caters to your specific preferences and dietary requirements and deck up the venue according to your taste and preferences. This approach ensures every aspect of the dining experience is tailored to your desires, resulting in a truly exceptional celebration.
Flexibility
Unlike larger venues, these intimate spaces are designed to accommodate small to medium-sized groups. This flexibility makes way for a more intimate gathering, where conversations flow freely, and every guest feels valued and included. Whether it's a family reunion, a business dinner, or a romantic proposal, the compact size of the private dining room ensures that the atmosphere remains intimate and cozy, fostering a sense of togetherness and building deep connections among the guests.
Blu Ristorante: The ultimate private dining experience in Yorkville
If you're in and around Yorkville, Toronto, and looking for a private dining experience, you must try Blu Ristorante. They offer private rooms for dinner from Sunday to Thursday and lunch for every day of the week. Their excellent Italian cuisine, luxurious decor, helpful waitstaff, and warm ambiance will surely make your occasion all the more special. Book your reservation here.
Final thoughts
If you're someone who loves intimate celebrations where you can be yourself unabashedly and have a gala time with your close-knit circle, a private dining room would be perfect for you. It also works great for official events, in case you want to have a private discussion over lunch or dinner with your clients. The idea behind private dining rooms is to offer you privacy while also giving you all the services of a full-fledged event venue. You can customize the menu, change the decorations if it's permitted by the restaurant, and most importantly, pay attention to each and every guest and develop meaningful connections. So the next time you plan a cozy get-together, skip the usual restaurant seats and reserve an exclusive dining room instead!
---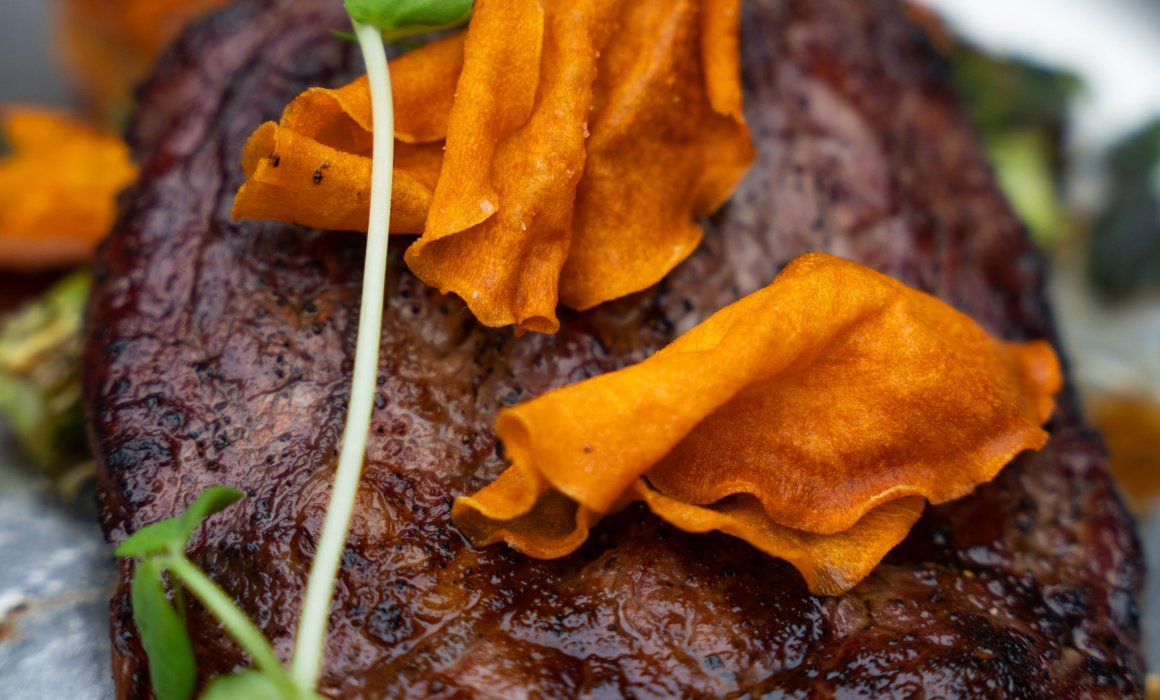 Picture this: an evening aglow with soft, warm lighting; the scent of delectable dishes wafting through the air; the gentle strains of live ambient music creating an enchanting backdrop. What's even better? All of that is happening in a private dining room with your loved one.
So, if you're seeking an unforgettable date night experience, you must consider private dining. Whether it's the allure of a hidden garden oasis, the intimate sophistication of a wine cellar, or the sky-high elegance of a rooftop venue, the realm of private dining offers endless possibilities. Ready to learn more? Here are private dining options for your next date night.
Intimate Indulgence at Blu Ristorante, Yorkville
For those who understand the art of crafting an unforgettable evening, Blu Ristorante in the heart of Yorkville beckons. This contemporary Italian haven doesn't just offer a meal; it also presents an experience. Picture yourself stepping into a private room adorned with warmly lit stonewalls and grand mirrors. Cozy leather seating welcomes you while the soft glow reflects off crisp white-linen table settings. This intimate space accommodates ten to 26 guests, making it perfect for a private celebration or an intimate dinner for two. The romance is palpable, and the restaurant's modern Italian cuisine is a journey for the senses.
The Skyline Oasis: Rooftop Private Dining
Want to take your girlfriend or wife somewhere elegant and romantic for your anniversary date? Rooftop private dining venues in Toronto offer a breathtaking panoramic view of the cityscape, creating a mesmerizing backdrop for your evening. Whether you choose a sleek, modern rooftop lounge or a charming terrace tucked away in a hidden corner, the city's twinkling lights provide a captivating atmosphere. Imagine savouring gourmet dishes while immersed in the ethereal glow of the skyline—a memory etched forever in your heart.
Vintage Charm: Wine Cellar Dining
Step into a world where history and luxury intertwine. Wine cellar dining offers an intimate and cozy ambiance reminiscent of a bygone era. Surrounded by walls adorned with carefully curated wines, you and your partner will relish in the charm of old-world elegance. Indulge in a carefully crafted menu that complements the diverse array of wines at your fingertips. As you explore the symphony of flavours from your dry-aged steak or glass of exquisite wine, you'll find that each sip and bite tells a story, enriching the narrative of your date night.
Garden Serenity: Private Garden Lounges
Is your partner a huge plant lover? Surprise them by letting them escape the urban hustle and retreat to a haven of tranquillity. Private garden lounges immerse you and your partner in nature's embrace, where lush greenery and the soothing sounds of the outdoors set the stage for an intimate dining experience. As you dine under a canopy of stars, the world's worries melt away, leaving only the company of your loved one and the delectable dishes before you. It's a serene escape that captures the essence of both romance and relaxation.
Cultural Fusion: Ethnic Private Dining
Transport yourselves across continents without leaving the city. Ethnic private dining experiences blend the allure of diverse cuisines with the intimacy of a private setting. From the vibrant spices of Indian cuisine to the delicate flavours of Japanese fare, these dining options in Toronto and nearby cities open doors to cultures and traditions around the world. These are perfect date ideas, especially if you and your boyfriend or husband are both foodies-slash-wanderlusts. Go and immerse yourself in your next dining adventure!
The Bottom Line: Private Dining Is Perfect for a Romantic Evening
The world of private dining unveils a tapestry of experiences, each thread woven with romance, indulgence, and exquisite flavours. Whether you find yourself captivated by the elegance of Blu Ristorante in Yorkville, enchanted by the city lights atop a rooftop venue, drawn to the vintage charm of a wine cellar, embraced by the serenity of a private garden lounge, or intrigued by the cultural fusion of ethnic dining, there's a canvas of choices awaiting your touch. These evenings aren't just about dining; they're also about crafting memories that will be cherished for a lifetime. Start planning your private dinner today!

Want to learn more about Blu Ristorante's private dining option? Give us a call now.
---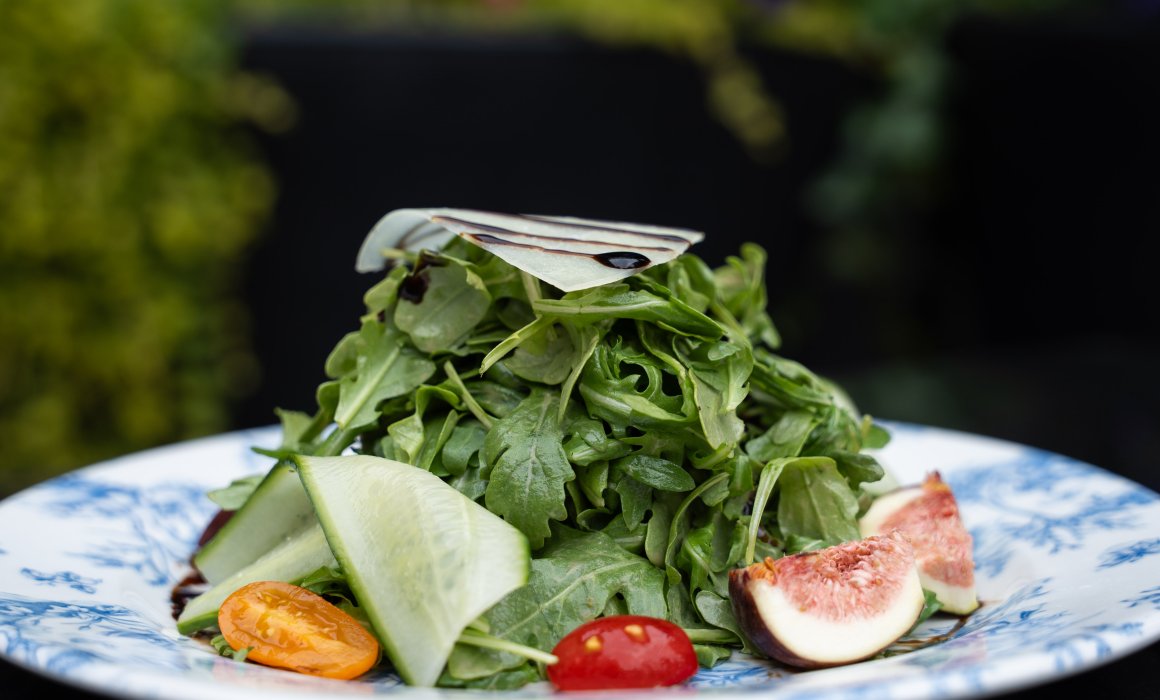 There's a reason your wedding is called the "big day." It is, after all, a canvas onto which you'll paint cherished memories that will surely last a lifetime. So, it has to go well. And among the myriad decisions, none is as pivotal as choosing the perfect venue for your wedding reception. This choice sets the stage for the ambiance, the culinary experience, and the overall magic. Today, let's navigate the key considerations to help you find the best venue for your wedding reception.
Reflect on Your Style
The venue you choose should be a reflection of your style as a couple. Are you drawn to the elegance of a classic ballroom, the rustic charm of a countryside setting, or the urban chic of a contemporary Italian restaurant? As you explore wedding venue options, envision how each venue complements your event theme and personal preferences. Your chosen reception venue should serve as a backdrop that speaks volumes about your love story.
Set the Right Atmosphere
The ambiance you wish to create is paramount. Consider the mood you want to evoke—whether it's an intimate and cozy gathering, a grand celebration, or something in between. Elements like lighting, decor, and floor layout contribute significantly to the wedding atmosphere. When checking out wedding venues, walk through the spaces with your vision in mind, imagining how each corner could transform to encapsulate your special day.
Consider Culinary Excellence
A wedding reception isn't just about celebrating; it's about savouring every moment, including the culinary journey. Explore the venue's catering options—from delectable appetizers to the grand finale of a wedding cake. A curated menu that showcases delectable dishes and considers guests' dietary preferences can elevate the overall experience.
Plus, don't forget that food helps set the tone for your wedding event. Whether it's a formal sit-down dinner, a casual buffet, or a trendy food station setup, the catering style or restaurant service can reflect the couple's personality and the overall theme of the wedding.
Examine Logistics and Accessibility
Logistical aspects can make or break your day. Consider the convenience of your chosen wedding venue for both you and your guests. Adequate parking, nearby accommodations, and ease of access are factors that contribute to a seamless celebration. More importantly, accessibility ensures that your loved ones can share your joy with ease and comfort.
Balance Between Capacity and Intimacy
Strike the right balance between guest capacity and intimacy. A venue that's too large for your guest count might feel cavernous, while a cramped space could inhibit mingling and dancing. Consider how the venue's layout accommodates your guest list, ensuring everyone feels included in your momentous occasion. Experiment with different seating arrangements and floor layouts to see the venue's true capacity. Keep that in mind whether you're eyeing a contemporary restaurant, hotel function room, or rustic barn as your venue.
Ask About Personalization Possibilities
The ability to infuse your personality into the venue can elevate your celebration. Explore whether the venue allows you to bring in your preferred vendors, add personal decor touches, or customize elements that matter most to you. Be sure to straighten out such details days before the wedding to avoid unnecessary stress and issues on the big day.
Consider the Weather
Planning an outdoor wedding celebration? The weather on the big day may be beyond your control, so ask whether the venue has backup plans in case of inclement weather. Flexibility in handling unforeseen circumstances can provide you with peace of mind, knowing that your wedding day will be beautiful regardless of the elements.
The Bottom Line
In the end, the wedding venue you choose should resonate with your heart and fulfill your vision for your big day. Let your story unfold against a backdrop that feels like a true reflection of your love and ticks off your checklist for a practical and reliable reception area.
Experience Elegance at Blu Ristorante
Imagine a wedding reception that combines timeless elegance and unparalleled accessibility with contemporary sophistication and personalization possibilities. Blu Ristorante in Yorkville is not just a venue; it's an experience tailored to your desires. With intimate private rooms, warmly lit ambiance and exceptional Italian cuisine, Blu Ristorante sets the stage for a celebration that mirrors your love story. The fusion of romance and culinary excellence creates an enchanting backdrop, ensuring your big day is as unique as your love story.
Discover the perfect canvas for your celebration at Blu Ristorante. Give us a call today!
---
---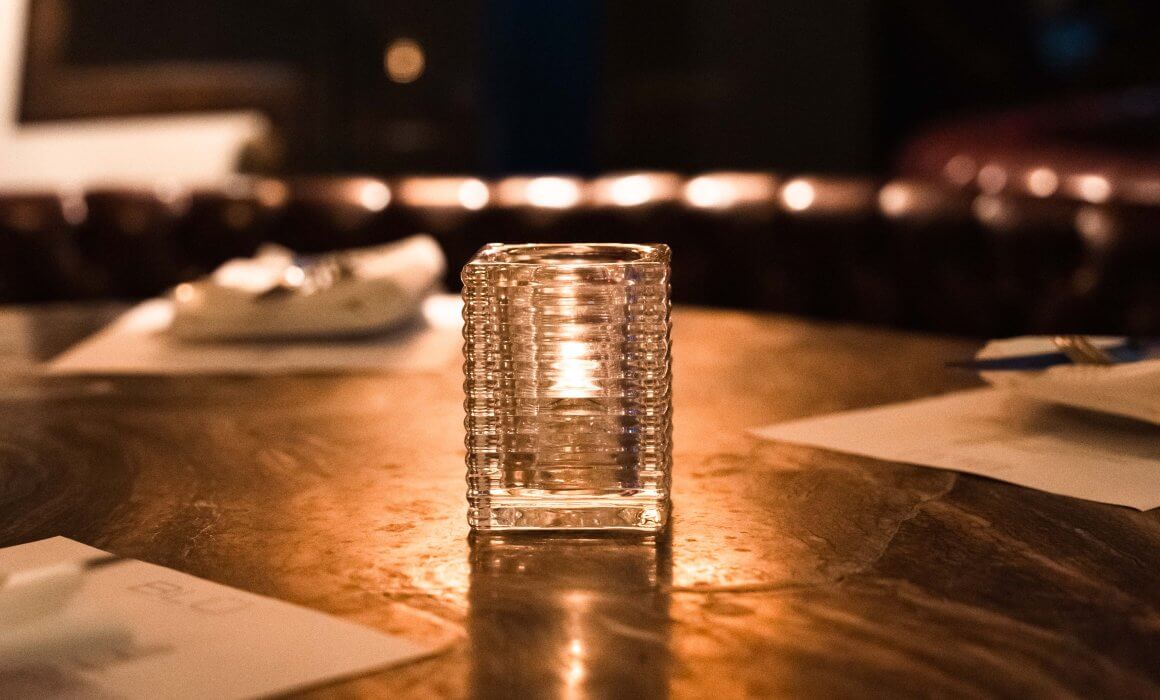 The holiday season is upon us, and for many businesses, that means it's time to celebrate with an office holiday party. While these gatherings are a great way to spread cheer and foster team spirit, planning them can be a tall order, often accompanied by a flurry of stress. But fear not! With some thoughtful preparation and a dash of creativity, you can host a memorable and stress-free office holiday party that everyone will cherish. In line with that, we've come up with a list of easy-to-implement tips to help you get through the process.
1. Start Early to Reduce Stress
The holiday season can be hectic, and many venues and vendors get booked quickly. Start planning your office holiday party well in advance to secure the best date, venue, and catering options. Get a head start on all the details to keep last-minute stress at bay.
2. Establish a Realistic Budget
Set a clear budget for your office holiday party from the outset. This will help you make informed decisions and avoid overspending. Factor in all costs, including venue rental, catering, decorations, entertainment, and any additional activities you have planned.
3. Pick a Convenient Date and Time
Consider your employees' schedules when choosing a date and time for the party. A weekday evening after work hours or a weekend afternoon often works well. Ensure that the chosen time is convenient for the majority of your team to maximize attendance.
4. Choose the Venue: Private Dining at Blu Ristorante
Opting for a private dining room in a restaurant like Blu Ristorante can be a brilliant choice. These spaces offer an intimate and stylish setting for your office holiday party. Blu Ristorante, situated in the heart of Yorkville, Toronto, offers large private dining rooms perfect for up to 60 guests. You also have a full buy-out option if you're expecting up to 110 guests. The restaurant's luxurious ambiance and delectable Italian cuisine create a perfect backdrop for a festive and stress-free celebration.
5. Plan Engaging Activities
Want to make your office holiday party one for the books? Include activities that encourage team bonding and create a lively atmosphere. Consider games, icebreakers, or a gift exchange to keep the energy high and the party memorable. You can create an office poll during planning to tailor the activities to your team's preferences and the party's theme.
6. Streamline Catering and Dietary Needs
Whether you plan to host your party at a restaurant or hire an external caterer, discuss menu options to cater to all tastes. For instance, if you choose Blu Ristorante, you can ask for preset menus to suit various dietary preferences and restrictions. Well-thought-out buffets and food stations also often work well, allowing guests to select their preferences.
7. Create a Festive Atmosphere
Have you already chosen a theme and sorted out the catering? It's time to focus on creating a festive atmosphere. Transform your chosen venue into a winter wonderland or a holiday paradise with festive decorations. Incorporate holiday-themed décor, lighting, and music to set the mood. Engage a decorator or enlist the help of your team to make the space inviting and cheerful. Planning to host the party at Blu Ristorante? The staff will gladly lend you a hand.
8. Simplify RSVPs and Communication
Don't let the invitations stress you; use digital tools to streamline the RSVP process. Create an online invitation and track responses electronically. Keep guests informed about the party's details, including the agenda, dress code, and special requirements.
9. Arrange Transportation if Necessary
If your party location is not easily accessible for all employees, consider arranging transportation to and from the venue. This thoughtful gesture ensures everyone can participate in the festivities without the worry of transportation logistics.
10. Delegate Tasks and Share Responsibilities
You don't have to plan the office holiday party alone. Delegate tasks and share responsibilities among willing team members. You can even create a party planning committee as early as today to distribute the workload and bring fresh ideas to the table.
11. Capture the Memories
Don't forget to document the celebration. Hire a photographer and videographer, or designate someone on your team to capture candid moments and group photos. These memories will serve as a delightful reminder of your stress-free office holiday party.
---
The best entrepreneurs and business professionals know that forging strong connections and nurturing client relationships is an absolute game-changer. While traditional meetings and conferences have their place, there's another way to develop client relationships. It's hosting a private dining event. This intimate gathering can create a multitude of advantages that go beyond the conference room. Today, we'll explore the benefits of hosting a private dining event for clients and why it's an indispensable strategy for businesses of any size. 
1. Building Stronger Connections
Want a relaxed and convivial atmosphere that fosters genuine connections? Host a private dining event. It provides an intimate opportunity for clients to get to know you and your team on a personal level, allowing relationships to deepen beyond the transactional. No unnecessary distractions from other diners—your party can enjoy each other's company well. More importantly, the bonds formed over a shared meal often lead to increased trust and loyalty, which are essential in sustaining long-term business partnerships.
2. Enhanced Communication
In a private dining setting, the focus can easily shift from business matters to open conversation. It's a chance for clients to express their needs, concerns, and feedback in a more relaxed and informal setting. This improved communication can lead to better collaboration, problem-solving, and the ability to address issues more effectively.
3. Creating Memorable Experiences
You can leave a lasting impression on clients with a well-orchestrated private dining event. The combination of delectable cuisine, exceptional service, and a carefully curated ambiance sets the stage for a memorable experience. The result? Clients are more likely to associate positive memories with your brand, making them more inclined to choose your services or products and even become loyal partners for your company. 
4. Demonstrating Appreciation
Hosting a private dining event is a tangible way to express gratitude to your clients for their business and loyalty. It shows that you value their partnership and are willing to invest time and effort in strengthening the relationship. That's especially true when you choose private dining rooms that come with superior customer service and premium-quality food, making your clients feel special from the moment they step foot in the restaurant. This show of appreciation is often reciprocated through your clients' continued support and referrals.
5. Strategic Networking
What else can you reap from arranging a private dining event for your potential and existing clients? Here's one: Private dining events can serve as incredible networking opportunities. Consider inviting multiple clients to the same event to create synergy among them, potentially leading to new business collaborations or partnerships. It also allows your clients to expand their own professional networks—another good reason to accept your invitation. 
6. Personalized Experiences
One of the greatest advantages of private dining is the ability to tailor the experience to the preferences of your clients and their team. From custom menus to the selection of wines and the ambiance of the venue, everything can be personalized to cater to your clients' tastes, making them feel truly valued.
7. Competitive Edge
Want to gain some competitive edge in the industry? Hosting private dining events is a unique and thoughtful way to stand out from competitors. It showcases your commitment to client relationships and your willingness to go the extra mile to ensure their satisfaction.
8. Celebrating Milestones
Private dining events can be used to celebrate significant milestones, whether it's marking the successful completion of a project, a client's business anniversary, or any other achievement. These celebratory moments reinforce a sense of partnership and collaboration.
9. Encouraging Repeat Business
Clients with positive experiences at your private dining events are more likely to continue doing business with your company. They feel a sense of belonging and connection that extends beyond the transaction, leading to increased customer retention.
Book a Private Dining Room at Blu Ristorante
Hosting a private dining event for clients goes beyond traditional business interactions, providing an intimate platform for genuine connection, improved communication, and the creation of memorable experiences. So, if you're considering hosting a private dining event for your clients in Toronto, Blu Ristorante in Yorkville offers an ideal venue. With our intimate private rooms, impeccable service, and contemporary Italian cuisine, we provide an elegant setting that is sure to leave a lasting impression on your valued clients. Elevate your client relationships and business partnerships; book private dining at Blu Ristorante today.
---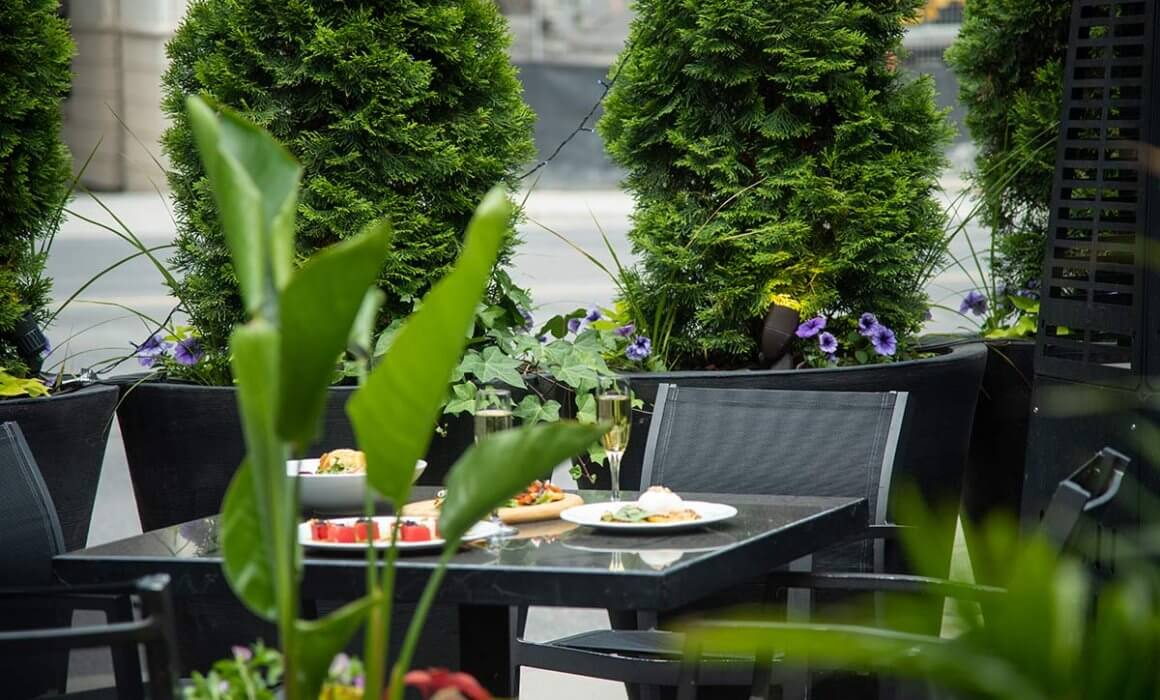 Summer is the perfect time to enjoy the outdoors and indulge in delicious food and drinks. So if you're looking for a great spot to dine al fresco in Yorkville, Toronto, you're in luck! The area has plenty of fantastic patios that offer a range of cuisine and ambiance.
Here are some of the best patios to check out this summer:
Blu Ristorante's Beautiful & Lush Patio
Blu Ristorante is a chic and elegant Italian restaurant boasting a beautiful outdoor patio area. The patio is surrounded by lush greenery and features comfortable seating, creating a romantic and cozy ambiance. The menu features classic Italian dishes made with fresh and locally sourced ingredients, including handmade pasta and seafood. You have great options for drinks in this restaurant, too! Blu Ristorante's extensive wine list includes an incredible selection of Italian and international wines, cocktails, and spirits. Book a table now.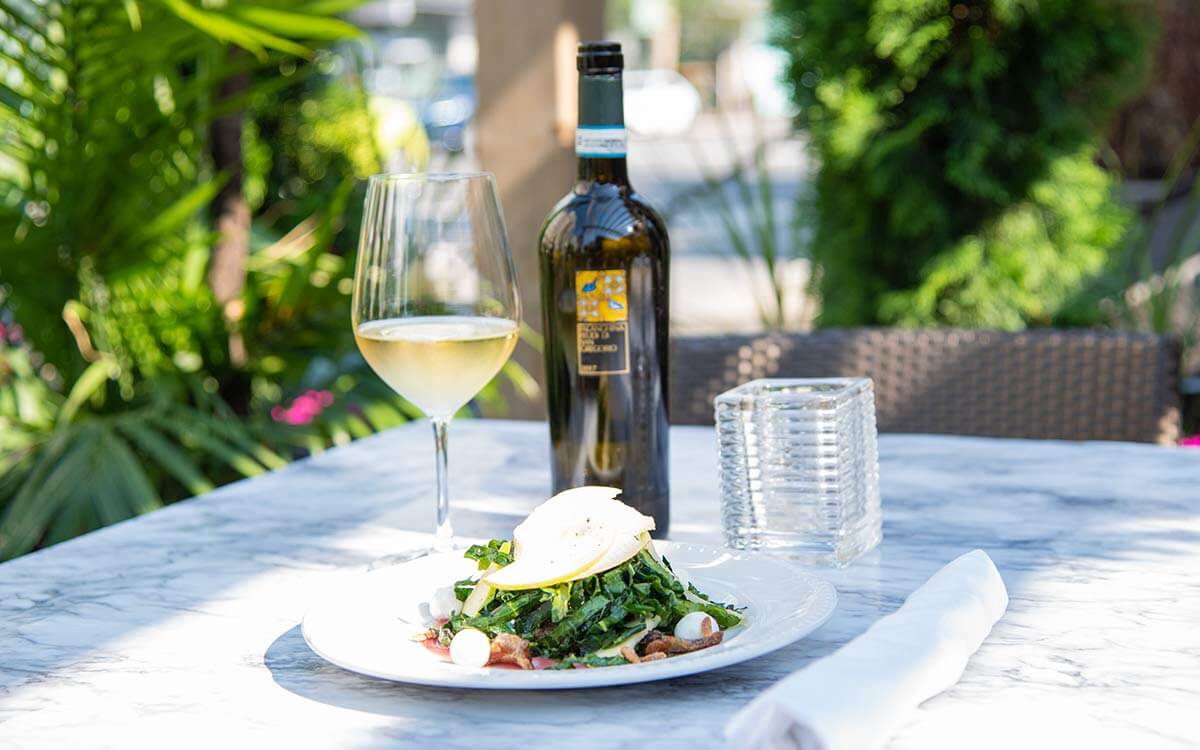 Hemingway's Spacious Rooftop Patio
Hemingway's is a popular bar and restaurant located in the heart of Yorkville, and its spacious rooftop patio is one of the best in the area. The patio features a bar, making it the perfect spot to enjoy some drinks and socialize with friends. Looking for comfort food to have with your beer or cocktail drinks? You'll be pleased that Hemingway's menu features classic pub fare, including burgers, sandwiches, and salads.
Kasa Moto's Breathtaking Rooftop Patio
Kasa Moto is a Japanese-inspired restaurant located in a stunning four-story building in Yorkville. It's known for its rooftop patio that offers breathtaking views of the city skyline and is beautifully decorated with plush seating and decked with a full-service bar. The menu features a range of Japanese-inspired dishes, including sushi, sashimi, grilled meats, and seafood. You can also enjoy drinking from its incredible list of cocktails and spirits.
Cibo Wine Bar's Street Patio
Cibo Wine Bar is a chic, modern Italian restaurant with two cozy outdoor patio areas. You can choose between a street patio with ample shades or a side patio for a more intimate dining experience. And no matter which patio you stay in, you'll be treated to delicious Italian cuisine. The menu includes fresh pasta, meat dishes, seafood, and more!
Sassafraz's Shaded & Romantic Patio
Sassafraz is a Yorkville institution that has been serving delicious food and drinks for decades now. The restaurant's outdoor patio is a charming and elegant space with cozy seating and ample greenery. On this shaded patio, you can drink wines & cocktails and enjoy a range of classic dishes, including steak, seafood, and pasta.
Bar Reyna's Year-Round Back Patio
Situated in a charming Victorian house, Bar Reyna is a Mediterranean-inspired cocktail & snack bar. While it may have a small facade, it features a year-round back patio. The patio can seat 48 people and treat them to Mediterranean-inspired dishes, snacks, and cocktails. You will surely enjoy al fresco dining in summer, especially if you try Bar Reyna's lamb baklava.
Trattoria Nervosa's Chic & Chill Rooftop Patio
Trattoria Nervosa is a cozy Italian restaurant that features a lovely outdoor patio. The patio is decorated with comfortable seating and lots of greenery, creating a charming and romantic ambiance. Trattoria Nervosa welcomes you with a classic Italian menu, including risotto and different kinds of pasta. Pair the food with Italian wines, cocktails, or spirits.
The Pilot's Stunning Rooftop Patio
The Pilot is a beloved Yorkville landmark that features a rooftop patio with stunning city views. It's the perfect spot to eat great food, enjoy some drinks, and have fun with friends. The menu offers classic pub fare, such as burgers, sandwiches, wings, and fish & chips. The Pilot also offers a delectable weekend brunch, so don't miss that when you're in Yorkville.
Summing It Up
Whether you're in the mood for Italian cuisine, pub fare, or Japanese-inspired dishes, there's a patio in Yorkville perfect for you. Blu Ristorante's patio dining is a must-visit, but don't miss out on these other fantastic options as well. So grab some friends, soak up the sun, and enjoy delicious food and drinks at one of Yorkville's best patios this summer.
---