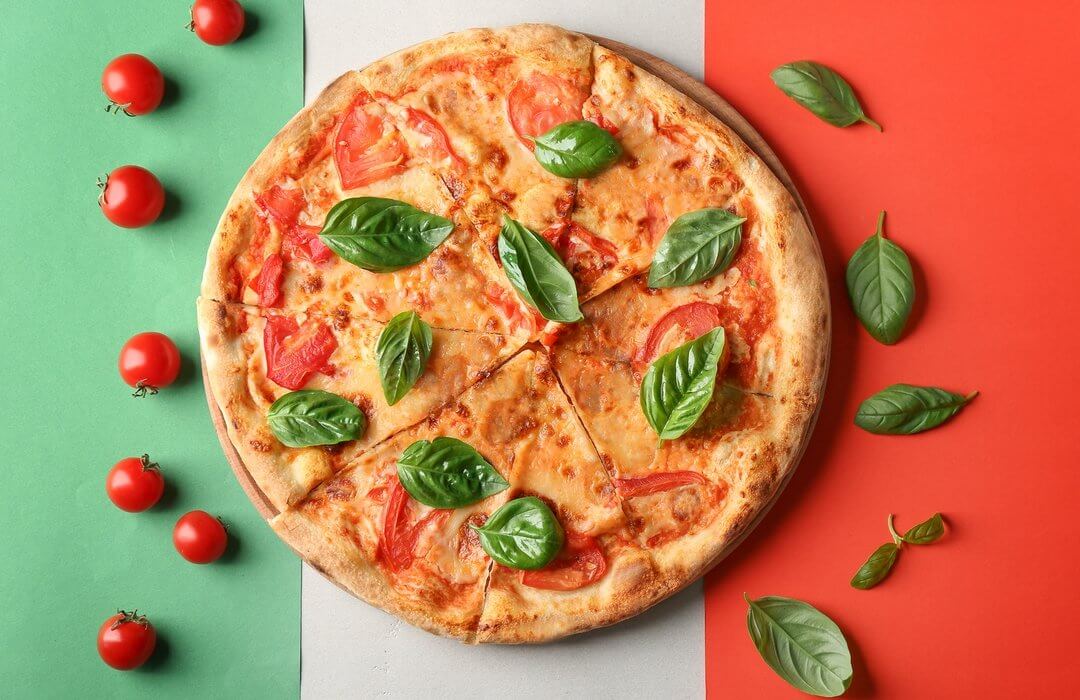 9 Traditional Italian Food Dishes You Will Love

Italy is known for many things, especially the beautiful scenery and famous landmarks. The country is a lovers' paradise where people visit to create lasting memories. However, Italy's beauty extends beyond the breathtaking views, because the country is also known for another cultural phenomenon: the Italian cuisine. Traditional Italian food dishes are perhaps the most sought-after delicacy in the world.
While pizza and pasta are the most traditional Italian food dishes, there are so many more classic Italian cuisines you can try out. These traditional Italian food dishes vary from one region to another. For instance, the popular American-Italian dishes are believed to come from the Southern region of Campania and Sicily Island just off the southern coast, while others are believed to originate from the north. In some cases, the dishes end up being named after the region of its origins.
The ingredients used in preparing traditional Italian foods are often quite simple, affordable and locally available, such as cheese, olives, olive oil, pasta and eggplants. These Italian cuisines were designed way back when the country's economic standing was poor, hence people had to rely on readily available foods to come up with the recipes. For them, it's not just about the cooking technique, but how you use the ingredients can matter a great deal too.
Here are some classic and traditional Italian food dishes you will love:
1. Spaghetti Carbonara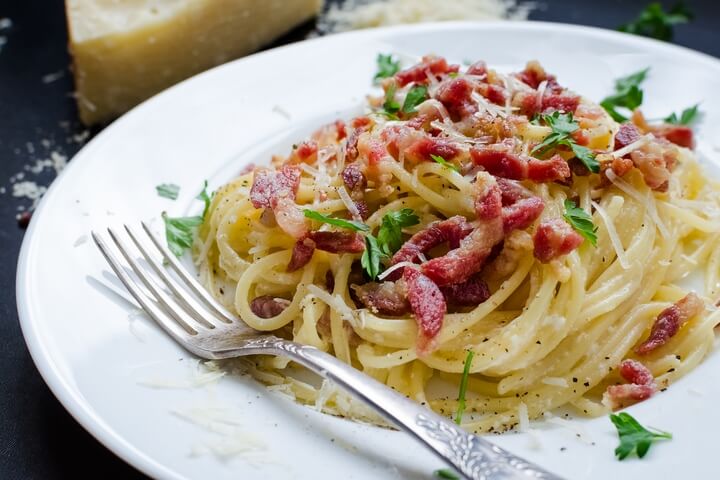 Just from the name alone, the spaghetti carbonara already sounds like a sweet and delicious meal. The traditional Italian food dish originated in Rome. To prepare this recipe, it is made with spaghetti, guanciale (pork and beef, which can be replaced by the pancetta or bacon), cheese and black pepper. Some ingredients, such as pasta and the cheeses, can be replaced with linguine or fettuccine. The spaghetti and parmesan can also take the place of the pecorino romano.
However, there are other essential ingredients that you simply must include in the dish. Never pass up the sauce, which is created from scratch using processed cream. Carbonara, a popular Italian pasta, is easy to prepare; you can try it yourself. Simply combine cheese with raw eggs, either pecorino romano or parmesan, and add hot pasta to this mix with pork cheek, black pepper, and fried guanciale.
2. Lasagne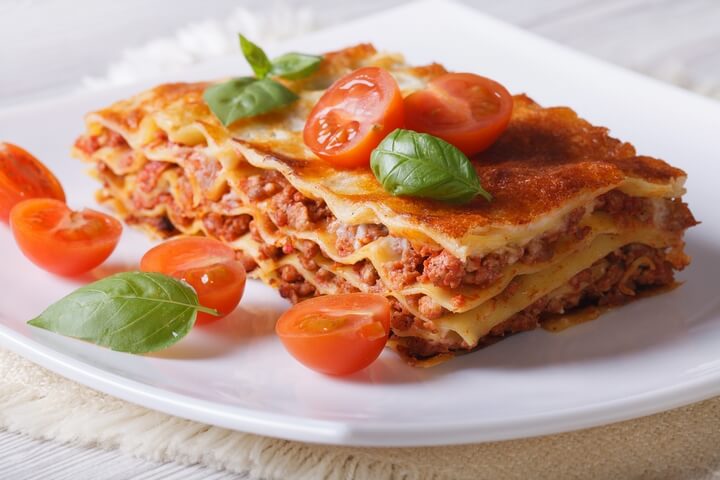 Lasagne is another traditional Italian food that originated from Naples or Emilia (depending on where you are). It is among the most popular Italian dishes that have been adapted in different nations all over the world. This recipe consists of vegetables and beef ragu layered between pasta sheets and béchamel sauce, topped with cheese and oven baked.
Earlier, it comprised of rich meat stock flavours along with red wine and was never prepared with tomatoes as it came up before the 16th century. Modern versions, however, include tomatoes.
3. Risotto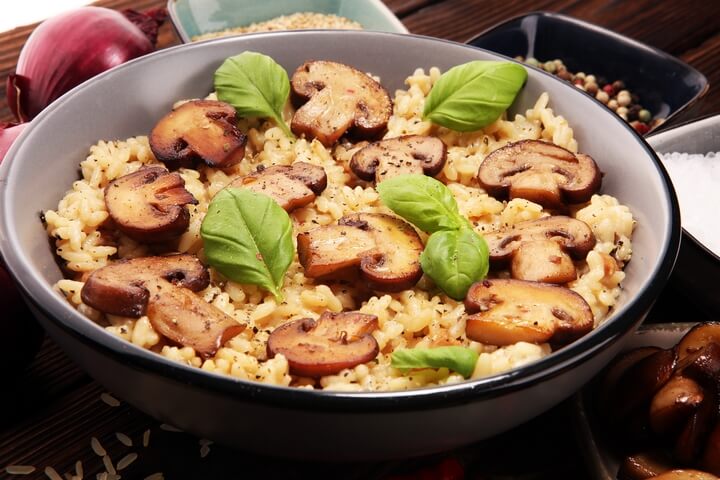 Rice may not be as popular as other traditional dishes in the Italian culture, but it's an equally unique cuisine, which can be prepared in various ways. One of them is risotto, a creamy rice dish prepared in a broth with butter, saffron, wine, and onion. It can be accompanied by other additives such as shrimp, cuttlefish, chicken, bacon, mushroom or chorizo depending on the region.
While cooking this meal, you should first heat the butter and oil in a pan. Then, add the onions, white wine and broth. The next step is to add the rice, while ensuring you are using low heat to cook. Afterwards, add in the toppings and final seasonings to complete your meal.
4. Arancini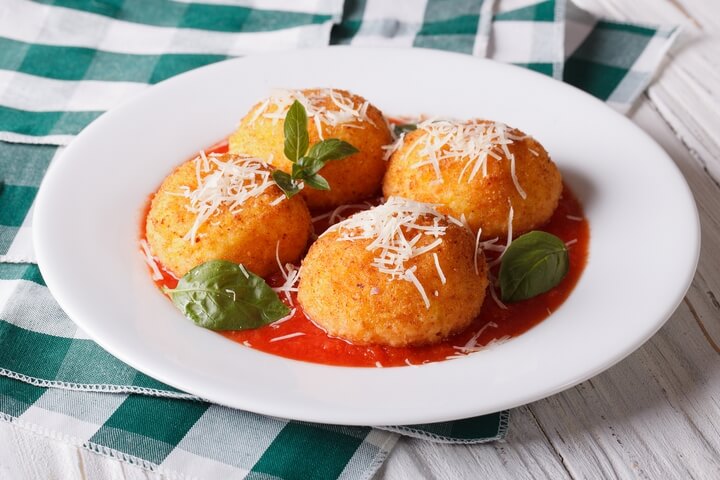 This interesting Italian dish was originally leftover risotto before it was turned into a unique snack. It has many variations depending on the region. In essence, it is stuffed rice balls coated in breadcrumbs and flour, and then fried to a golden-brown colour. The variations include Aranci con ragu, which is most common, arancini con burro with butter, arancini con Funghi, arancini con pistacchi and arancini con melanzane.
5. Tortellini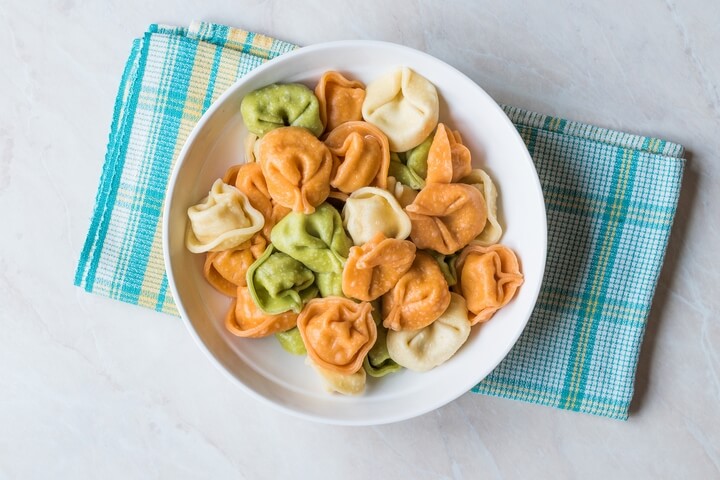 This is another pasta dish originating from the Bologna and Emilia Romagna region. This traditional Italian food dish consists of small ring-shaped pasta, complemented by a cheese or meat mixture. The tortellini dish is served in chicken, and sometimes beef broth. The larger tortelloni is typically the same shape but stuffed with spinach and ricotta, while tortellacci, the largest version, is filled with either a cheese or prosciutto meat mix.
6. Prosciutto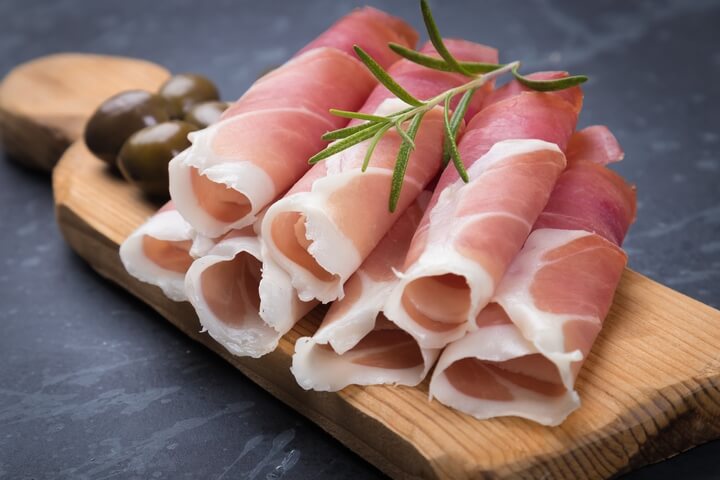 Since this dish is served uncooked, there's a common misconception that Prosciutto might be unsafe for human consumption. However, this traditional Italian food is actually delightful, having been made from the hind or a pig's thigh, often wrapped around a breadstick or melon when served. This dish is a crowd favourite, popularly served among parties and casual gatherings.
Prosciutto can also be used in pasta dishes or other meat stuffing. The most famous is the parma ham, which is developed for up to 24 months in a salting and air-drying process.
7. Ribollita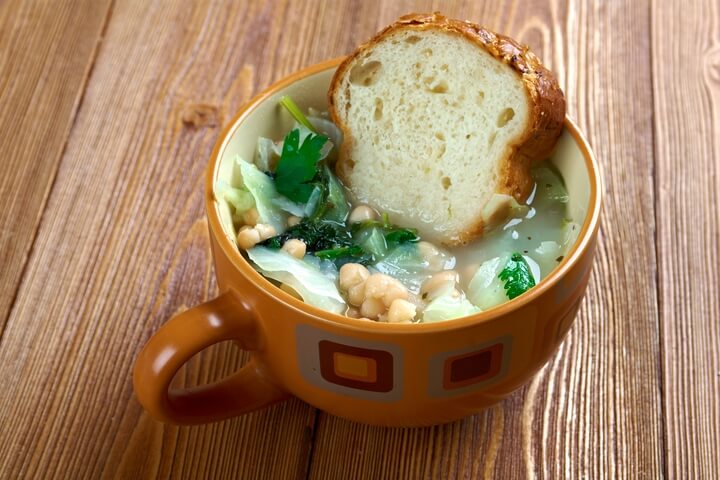 This dish started out as a peasant's meal for servants and was made from leftovers. Once the masters completed their meals, servants would collect the unfinished leftovers and boil the ingredients until the bread fell apart and eventually disappeared into a thick soup. Nowadays, the bread soup contains vegetables such as onions, celery, carrots, potatoes and cabbage. It's a common delicacy in Tuscany.
8. Bottarga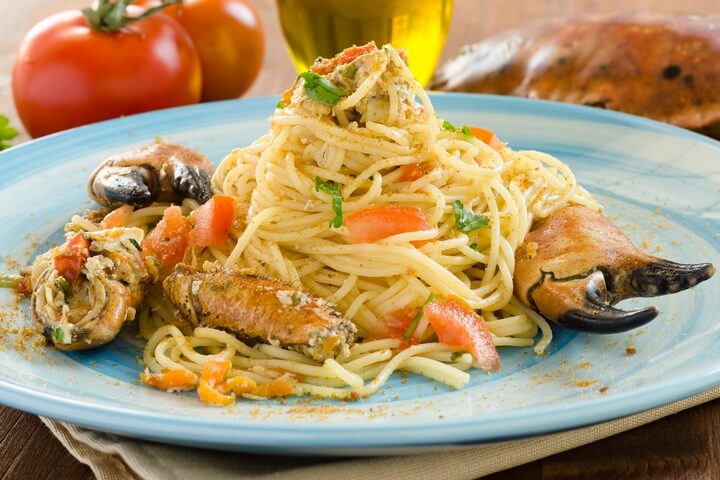 Bottarga is a form of fish roe commonly made from tuna, swordfish and grey mullet. Much like the truffles, this food is thinly sliced over a dish. The traditional Italian food dish began its origins in the Sicily and Sardinia region, but spread out into Tuscany and the Southern Italian cuisine.
9. Focaccia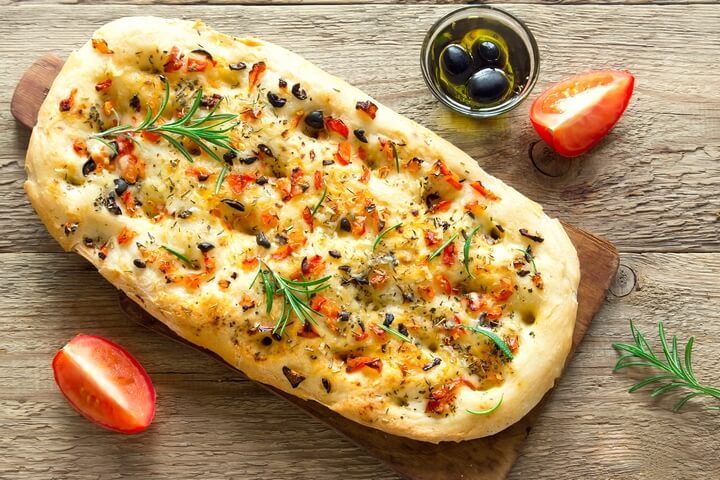 Similar to pizza, focaccia is soft flatbread. However, it's lighter than pizza and looks more like bread. The preparation, which entails baking with a coat of olive oil and salt, is effortless. You can try making it with different herbs, onions, green olives, or a personal favourite, harvested wine grapes commonly known as Schiacciata.
When you think of Italy, you imagine its beautiful sites and landscapes, exquisite wine, exciting traditions, national holidays and the traditional delicacies that make you keep going back for more. However, there is another side to this beautiful nation: food. Italian cooking is a highly esteemed art that has been preserved and passed down from one generation to the next.
Traditional Italian food dishes are among the most authentic, rich and diverse cuisine you can ever find, with a single meal featuring up to 10 courses. So, the next time you are near an Italian restaurant, take the time to indulge in these classic mouth-watering delicacies.